Republished: The Age; auth David Estcourt, view full article here.
The owners of several of Melbourne's iconic heritage theatres have mounted court action against their insurers to recover more than $20 million after high-profile shows including Harry Potter and Moulin Rouge! were put on hold due to the COVID-19 outbreak.
Ticket sales and booking revenue at the Princess Theatre, the Comedy Theatre, the Forum Theatre, Regent Theatre and CBD wedding venue the Plaza Ballroom evaporated as Victoria went into lockdown.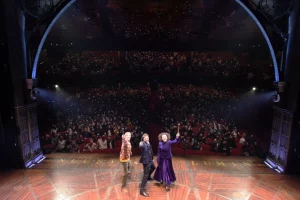 The venues, owned by Marriner Group and operated by mogul Jason Marriner, filed a lawsuit at the beginning of September against Ansvar Insurance asking the court to grant them $20,403,965 to cover all venues under their business interruption insurance policy.
Ansvar has not filed a defence but other insurers have claimed that business interruption policies were not supposed to apply to pandemics, and were instead designed for events like blackouts and floods.
An excerpt from the Victorian Department of Jobs, Precincts and Regions' economic audit of the show's first year estimated the annual benefit to be $244 million.
The Regent Theatre on Collins Street, also part of the lawsuit, was due to start Moulin Rouge! The Musical!  in August.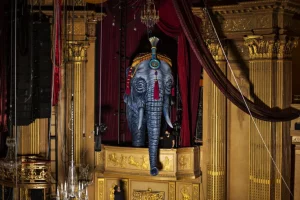 Documents filed in Victorian Supreme Court last week claim the venues began losing money when restrictions were first announced in March last year.
"Marriner Group's losses are in excess of $20 million," Danielle Snell, of Elit Lawyers, told The Sunday Age.
"This is relative to the mega losses that have been sustained by the broader hospitality and entertainment industry in Victoria as a result of what we now know is the world's longest COVID-19 related lockdown.
"It is important that the culture of Melbourne is reinvigorated as soon as possible and with that comes the processing and finalisation of business interruption insurance claims for Victorian businesses."
A spokesman for Ansvar said it would be inappropriate to discuss specific policies and individual claims circumstances.
In June, business owners moved closer to claiming payouts after the High Court rejected a bid by insurers to shield themselves from claims made by firms impacted by lockdowns throughout Australia.
The firms had taken out business interruption policies that the insurers argued were intended to exclude pandemics.
The Insurance Council of Australia, who was backing the High Court challenge on behalf of insurers, estimated the issue affected more than 250,000 policies and $10 billion in claims.
Despite the High Court decision, insurance industry executives told a parliamentary committee in June the ruling on its own would not lead to a large number of claims being paid.
After a year when the lights went off, the theatres were gearing up for a big 2021, including musical comedy Six, which gives a voice to Henry VIII's six wives was promising to be a hit and was expected to return to the Comedy Theatre in late 2021.